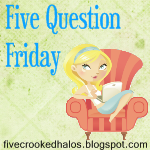 This is a weekly link up from
Mama M
. She provides the questions. We provide the answers and link to her blog so we can see everyone else's answers too! Here goes...
1. What was the first car you owned?
I owned a 1983 4 door, Chevrolet Chevette Scooter (with racing stripes). It wasn't the coolest car but it was a 5-speed stick and only cost me $600.
2. What song are you embarrassed to know the lyrics to?
Way too many Hannah Montana songs. My, ahem, DAUGHTER is a huge fan :)
3. Have you ever had stitches?
Yes, when my children were born.
4. What was your first job?
I worked at a walk-up ice cream stand for a couple of months one summer before moving to my restaurant job in high school.
5. Who is your favorite Sesame Street character?
Ummm, Big Bird. He is big and yellow (Meg's favorite color) and is always cheering someone up.